The Talon Leadership Awards ceremony was established in 1997 and is organized by the FAU Alumni Association. The event unites alumni, students, campus and community leaders in a celebration of leadership, support and service to Florida Atlantic.
One of the most prestigious honors given at Florida Atlantic, Talon Awards are presented in four categories: the Richard L. Schmidt Alumni Talon Award, the President's Talon Award, the Student Talon Award and the Faculty Talon Award.
The 2023 Talon Leadership Awards ceremony will be held on Wednesday, October 18.
Nominations for the 2023 Richard L. Schmidt Alumni Talon Award are now closed. If you have any further questions regarding nominations, please contact Patricia Rameau at [email protected].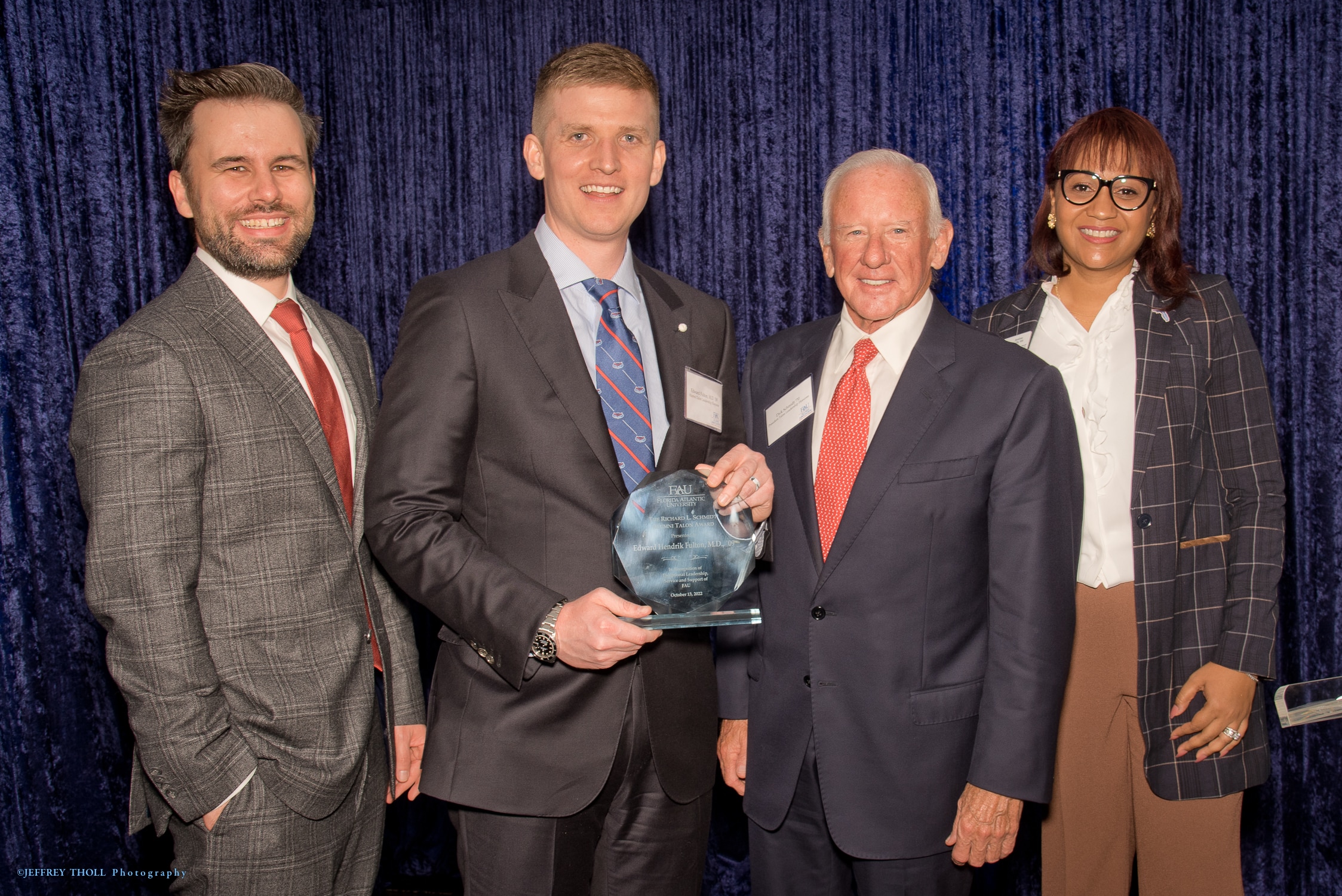 David J. Nicholson, Aubrey M. Strul, Eric Shaw, Ph.D., '72, '73, Richard L. Schmidt, MBA '71
President's Talon Award
Edward Fulton, M.D., '09
Alumni Talon Award
Kyle Prescott
Faculty Talon Award
Cassidy Hoover
Student Talon
Bob Stilley and Marylynn Magar
President's Talon Award
Alfred Morris '11
Alumni Talon Award
Kimberly Dunn, PhD
Faculty Talon Award
Tanya Panwala
Student Talon Award
Christine E. Lynn
President's Talon Award
Cecilia Mazzone Peters '90
Alumni Talon Award
Myeongsub Kim, PhD
Faculty Talon Award
Mariana Ribeiro
Student Talon Award
Barbara Schmidt
President's Talon Award
Robin Rubin, BSW '07, MSW '09
Alumni Talon Award
Kevin Wagner, J.D. PhD
Faculty Talon Award
Kira Wolak
Student Talon Award
2007 Sun Belt Conference Championship Football Team
Alumni Talon Award
Heather Thompson, PhD
Faculty Talon Award
Ovini Rodrigo
Student Talon Award
Joan Joyce
President's Talon Award
Ambassador Robert M. "Skipp" Orr '76
Alumni Talon Award
Monica Escaleras, PhD
Faculty Talon Award
Océane Boulais
Student Talon Award
Eleanor R. Baldwin
President's Talon Award
Steve Swanson, MS '86
Alumni Talon Award
Stacie Lee Rossow, D.M.A. '97''01
Faculty Talon Award
Alyssa Harris
Student Talon Award
Howard Schnellenberger
President's Talon Award
Ralph de la Vega, BSME '74
Alumni Talon Award
Dr. Philomena Marinaccio, EdS '93
Faculty Talon Award
Juan Ramirez
Student Talon Award
Eric M. Kelly, MNM''11
President's Talon Award
Edith Stern, BA '68
Alumni Talon Award
Dr. Myriam Swennen Ruthenberg
Faculty Talon Award
Kadeem Ricketts
Student Talon Award
The Honorable Susan Whelchel
President's Talon Award
Stephen Doerr, BBA '87, MAC '88
Alumni Talon Award
Dr. Frederick Bloetscher
Faculty Talon Award
Stephen Jones
Student Talon Award
Dr. Michael Friedland
President's Talon Award
Manuel D. Medina, BS '74
Alumni Talon Award
Dr. Eric Chiang
Faculty Talon Award
Megan Allore
Student Talon Award
Nancy Blosser
President's Talon Award
John H. Scannell, BBA '92
Alumni Talon Award
Dr. Lucy Madsen Guglielmino
Faculty Talon Award
Jennifer Joseph
Student Talon Award
David J. Gury
President's Talon Award
The Honorable Thomas Workman Jr., BS '71
Alumni Talon Award
Dr. Nannetta Y. Durnell-Uwechue
Faculty Talon Award
Megan L. Schroeder
Student Talon Award
Office Depot
President's Talon Award
The Honorable Armand Grossman, MEd '67, BA '70 MBA '77
Alumni Talon Award
Dr. Cynthia Blum, PhD '06
Faculty Talon Award
Edward Fulton
Student Talon Award
Rep. Adam Hasner
President's Talon Award
Bruce Allen, BA '71
Alumni Talon Award
Dr. Leslie A. Leip
Faculty Talon Award
Samantha Montgomery
Student Talon Award
Dr. Richard Staller
President's Talon Award
The Honorable Mary Brandenburg, BA '72, MBA '80
Alumni Talon Award
The Honorable Frederick C. Brummer, BS '68, MBA '74
Alumni Talon Award
The Honorable Pat Patterson, BAE '76, MEd '78
Alumni Talon Award
Dr. Eric Shaw, BBA '72, MBA '73
Faculty Talon Award
Linda Ortega and Sarah Kinel
Student Talon Award
The Honorable Joe Negron
President's Talon Award
The Honorable Scott H. Adams, BBA '87
Alumni Talon Award
Dr. Daniel R. White
Faculty Talon Award
Daniel Falco
Student Talon Award
The Honorable Ron Klein
President's Talon Award
The Honorable Ken Pruitt
President's Talon Award
Christopher N. Pollock, BS '78, MBA '81
Alumni Talon Award
Dr. Jeffery S. Morton
Faculty Talon Award
David K. Johnson
Student Talon Award
Melissa M. Morris
Student Talon Award
The Honorable Steven L. Abrams
President's Talon Award
Bob Burdick, BA '69
Alumni Talon Award
Dr. Mary Ann Gosser-Esquilin
Faculty Talon Award
Roxanne Grobbel
Student Talon Award
M.J. '"Mike", Arts
President's Talon Award
Dr. George C. Zoley, BA '72, MPA '75
Alumni Talon Award
Dr. Daniel Raviv
Faculty Talon Award
Denis Warburton
Student Talon Award
Peter Lo Bello
President's Talon Award
Michael R. Slade, BS '71, MBA '74
Alumni Talon Award
Dr. Patricia P. Fleitas
Faculty Talon Award
Nicholas J. Kalman
Student Talon Award
The Honorable John C. Rayson
President's Talon Award
Alberto Dosal, BS '73
Alumni Talon Award
Carole M. Pohl
Faculty Talon Award
Ursula Pamela Chavez
Student Talon Award
Michael Martin
President's Talon Award
Thomas E. Oxley, BS '66 *
Alumni Talon Award
Dr. Khalid Hamza
Faculty Talon Award
Cath Cheker
Student Talon Award
Sheriff Ken Jenne, BA '68
President's Talon Award
J. Randy Justice, BA '73
Alumni Talon Award
Dr. Voncile M. Smith
Faculty Talon Award
Monica L. Byers
Student Talon Award
Howard Guggenheim
Talon Award for Athletics
Dr. Catherine Bishop Temple, MEd '03, EdD '07
President's Talon Award
Daniel Mica, BA '66
Alumni Talon Award
Dr. Roy Levow
Faculty Talon Award
Jaye Bayles
Student Talon Award
Robert Rollins
President's Talon Award
Carla Coleman, MPA '84
Alumni Talon Award
John Kirlew
Student Talon Award