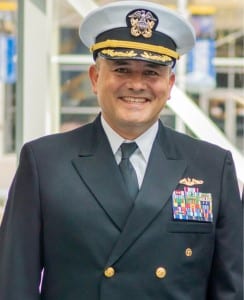 CAPT Noel Gonzalez was born in Camaguey, Cuba. He graduated with honors from Florida Atlantic University in 1994 with a Bachelor of Science in Mechanical Engineering. In 2002, he received a Master of Science in Computer Science and Information Technology from the University of Maryland. Gonzalez graduated from the Harvard School of Business HBx Core and Stanford Graduate School of Business Ignite.
Gonzalez was selected as a 2015 Secretary of Defense Corporate Fellow at SRI International in Palo Alto, California. Annually, two or more officers with highly-successful operational command and staff backgrounds from each Service are selected to be part of Corporate America.
Gonzalez served as the Major Program Manager to PMS 425. In this duty, he was in charge of the fast prototype, software development, design thinking, and production of the Submarine Launched Unmanned Aerial Systems and the TEAMSUB cybersecurity program. As the TEAMSUB Cybersecurity Director, he conducted more than 60 assessments of the entire Undersea Enterprise clear defense contractors, due to a major breach and data exfiltration of controlled unclassified information (CUI). The results of his investigations are the foundation for the current NAVSEA and DOD cybersecurity regulations.
Gonzalez was selected by Naval Reactors to serve as the Director of the Integrated Propulsion System (IPS) for the COLUMBIA-Class submarine Compatibility Test Facility (CTF). CTF is a full-scale prototype facility with more than a half-billion dollar budget for integration, testing, cyber security, and upgrades of for the new Columbia Class Submarine propulsion system.
Gonzalez is the CEO and founder of several successful companies like SkillMil Inc, an AI/ML SaaS company for Veterans and their spouses, Targeted Biosciences, SOTA Manufacturing, and ARGUS Enterprises. He is married to Liza Bartis of West Palm Beach, Fl. They have four children, Cory, Danielle, Lucia, and Nina.