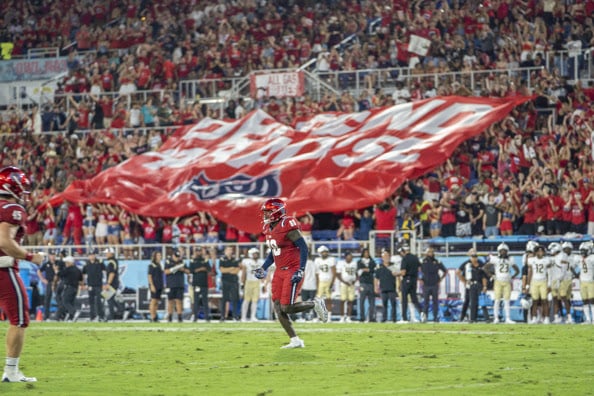 Owl Nation, 
Are you ready for college football?
We're less than a month from our Owls taking the field under new Head Football Coach Tom Herman, and we're ready to celebrate the season in style!
Prior to all six home games, we'll be hosting an alumni tailgate at the Marleen and Harold Forkas Alumni Center. Enjoy beverages, fun food vendors, music, and more, right across the street from FAU Stadium. If you want to beat the heat, our tailgates also include AC!
Tailgates are free to attend for all Florida Atlantic alumni, friends and family.
If you want to maximize your tailgate experience, we recommend becoming an Alumni Association member, which will grant you access to unlimited beverages, including Islamorada Brewery and Distillery beer, seltzers, pre-mixed cocktails, soda, and water, at all six home tailgates, while supplies last. 
If you are not a current Alumni Association member and would like to enjoy unlimited beverages, click here to become member for $45 or purchase a season-long drink package for $75. 
The fun kicks off on Saturday, Sept. 2, for the home opener versus Monmouth. Our tailgate will begin at 2:30 – 5:30 p.m., leading up to the 6 p.m. kickoff.
We saw the true passion of Owl Nation during March Madness. Let's carry that momentum to football and help create an amazing atmosphere at every home game.
Go Owls!
Katie G. Burke, Ph.D., '08, '10, '15, '17  
Assistant Vice President of Alumni and Community Engagement 
It was another record-breaking year for FAU fundraising, with more than $68 million raised in Fiscal Year 2022-23. During that stretch, the university saw a 27% increase in unique donors and an astounding 36% increase in alumni donors over the previous year, showcasing incredible engagement and passion from Owl Nation.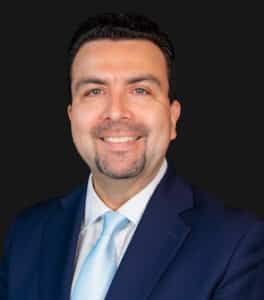 Pablo Paez
A College of Business alum, Pablo Paez '02, '08 is a new appointee to the Florida Atlantic University Board of Trustees, continuing his long track record of supporting the university. During his time at FAU, he was an active member of Student Government, serving as student body president. 
Paez was actively involved in generating student support for Florida Atlantic's inaugural football season in 2001, including helping organize travel to Miami Gardens for the team's first game. 
Paez, who met his wife at Florida Atlantic, received his Bachelor of Science in finance and real estate, and later his Master of Business Administration.
Paez serves as Executive Vice President of Corporate Relations for The GEO Group. He has also served a variety of volunteer roles for the University, including as chair of the Board of Directors for the Florida Atlantic University Alumni Association and vice chair of the Florida Atlantic University Finance Corporation Board. 
Jason Alexander '09 was appointed as enterprise industrials leader at RSM US LLP, an audit, tax, and consulting firm.
Lauren Sopourn '22 received honorable mention recognition in the Pro Football Hall of Fame Photography Competition. 
For more Class Notes and a recap of the FAU Men's Basketball team's sensational Final Four run, make sure to check out the latest edition of Florida Atlantic University Magazine! 
Below, you will find a few Florida Atlantic University alumni events with more events and registration instructions listed on our website. We look forward to seeing you soon!
FAU Fan Fest
Come support Florida Atlantic Athletics on Saturday, August 12, for Fan Fest at FAU Stadium. The free event begins at 9:30 a.m. 
Watch the football team practice in the stadium, and then venture to the Hyundai Deck to participate in games and activities with FAU men's soccer, women's soccer and both cross country teams from 9:30-10:30 a.m. Fan Fest will feature giveaways, concessions, games and more!
The football team will then hold an autograph session after practice. 
Florida Atlantic Foodies
Enjoy a great evening of exquisite local dining and conversation at our monthly Florida Atlantic Foodies event!
Join us on Wednesday, August 16, from 6-8 p.m. at Ramen Lab Eatery in Delray Beach for a delicious three-course meal, including gyoza dumplings, tonkotsu ramen, and cheesecake. Tickets for the event are $55, with a portion supporting student scholarships.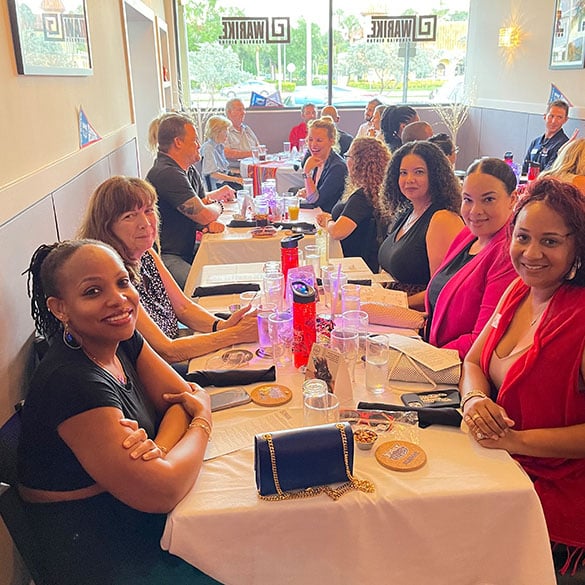 Chicagoland/Illinois Alumni Network Gathering
Come meet the leadership team of this new network and learn more about exciting alumni opportunities on Sunday, August 13, at Woodies Flat in Chicago. The networking event, which runs from 3-5 p.m. CT, will be a great opportunity to meet fellow Illinois Owls and start forming new connections as we celebrate Florida Atlantic.
Florida Atlantic Alumni Give Back Night at Kendra Scott
Join us on Saturday, August 26, for an evening of sparkle and shine at Kendra Scott in Boca Raton. Browse red and blue necklaces, earrings and more, or customize your very own piece at the Kendra Scott Color Bar. The free event will run from 6-8 p.m. and is open to the public. A portion of your purchase supports student scholarships.
Northeast Alumni Network: New York Chapter Meet-Up
We're kicking off our new network this month with a social meet-up! Join us on Wednesday, August 30, in New York at Clinton Hall and connect with other New York-based Florida Atlantic Alumni. The free event will run from 6:30-8:30 p.m.
Save the Date! Homecoming 2023
Florida Atlantic Homecoming 2023 will be held Oct. 13-21. Stay tuned for more updates on our alumni homecoming events.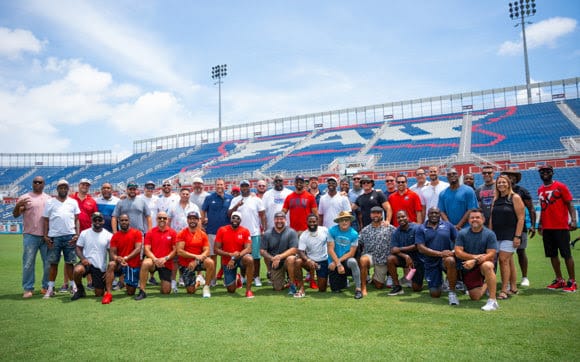 Event Recap
On August 4-5, the 2003-04 Florida Atlantic Football team, which helped launch the Owls' football program, reunited on campus for its 20-year anniversary. It was an incredible experience to witness the camaraderie among this special group, who served as trailblazers for Florida Atlantic Football.