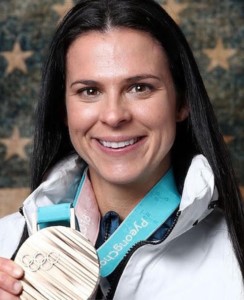 Brittany Bowe is a Florida Atlantic University alumna, who has successfully become a three-time Olympic speedskater and two-time Olympic medalist.
Bowe was given the longstanding honor of leading Team USA at the 2022 Winter Olympic opening ceremony in Beijing. She gave up her spot in the 500m at the 2022 Winter Olympic Games for Teammate Erin Jackson, which is recognized as one of the most selfless acts in Olympic history. She is the 1,000-meter world record holder. She won seven consecutive 1,000-meter world cup races from December 2018 to December 2019, the longest win streak by a U.S. woman. Bowe helped end a 12-year U.S. women's drought with an Olympic bronze medal in the team pursuit. Bowe finished top-five in all four of her races at the 2018 Olympics, six-time world champion, twenty-time world championship medalist and seventy-three-time world cup medalist.
After one of the most dominant seasons in speedskating history, Bowe was well on her quest for Gold leading into the 2018 Winter Games, when everything changed one day. Bowe suffered a concussion in training, and months later was diagnosed with Postural Orthostatic Tachycardia, POTS, which means the body does not control blood pressure or heart rate after you stand up.
Fearful that sports would never be an option for her again, she pushed forward with intense drive, and started an aggressive rehab program with the same focus and determination that made her an Olympian. That fight led to a medal at the 2018 Olympic Games and success in the 2022 Winter Olympic Games. As an Olympic athlete, Bowe has been given a platform to inspire, encourage, and support others across the globe. She hopes that people can draw from her experiences on and off the ice — from her success as well as her shortcomings.