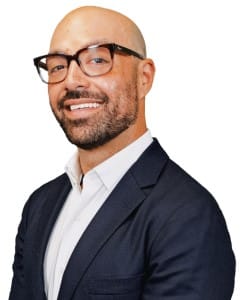 Aryeh Lehrer attended the Dorothy F. Schmidt College of Arts and Letters, graduating in 2003. During his undergraduate tenure, he sat on the FAU Student Government Senate and Program Boards. Lehrer additionally obtained his Six Sigma Green Belt Certification at FAU.
Following his graduation, Lehrer built a career in Human Resource Leadership, and currently leads Talent Management, Acquisition, and DE&I for one of the nation's largest cable, media, and technology companies. In this role, he is responsible for the development and execution of external recruitment strategies, internal talent management, employee development, DE&I, and University Relations. During his tenure, his team has hired over 7,000 people annually, providing opportunities for professional, economic, and social growth throughout the country. In 2021, Lehrer was honored as a recipient of the ICIMS Talent Innovator Award and was voted by his industry peers for a 2021 and 2022 OnCon Talent Icon Award recognizing him as a Top 50 International Talent Professional. His work in the DE&I space has received national recognition, as he was selected by Canvas for their list of Top 100 DE&I Leaders to Follow, while also leading to Comcast's 2022 Atlanta Business Chronicle Award for Outstanding Diversity in an Organization.
Outside of his professional work, Lehrer continues to volunteer his time serving his community. In continued support and ambassadorship of his alma mater, he holds positions on the Florida Atlantic University Alumni Board of Directors and Advisory Board for the School of Communication and Multimedia Studies within the College of Arts and Letters. He holds a Board Position for the National Diversity Council. Following his graduation, Lehrer has remained in South Florida and currently resides in Boca Raton with his wife, Jessica, and two children, Brenner and Bronx.